3 1/2 weeks ago it was Wil's Birthday, and then mine. One day apart. Yep.
I was up at 5 AM on Saturday Oct. 2nd making Wil's "Lemon Cookie Cake" (see bottom of post for recipe) I also needed to wrap presents, finish presents, etc. I made this fun pancake breakfast for him. He walked in and said "That's tight". Which translates roughly to "Thanks Mom, you're the best and I couldn't ask for a better birthday breakfast. I appreciate you being up at the butt crack of dawn to make this for me before my 8 AM game." (At least that's how *I* translated it...)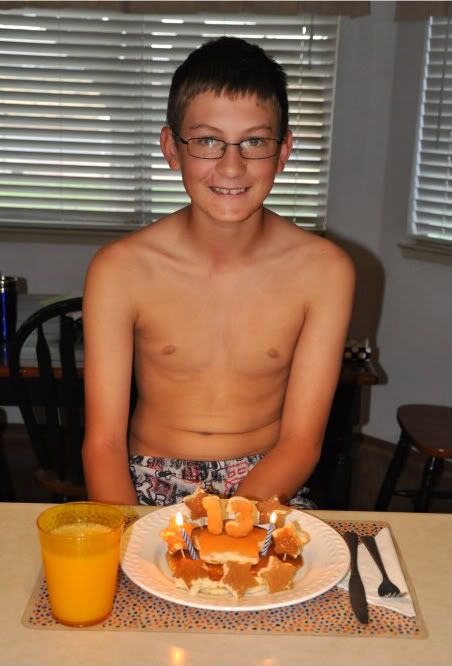 He then opened a couple new presents from us...Metal Cleats (Size 10 1/2, yeah) and new sandals to wear to the field. Got him ready to go and sent Danny to drop him off while I finished getting ready.
Loaded up snack (it was our snack day naturally)gatorade, hot cheetos, granola bars and cupcakes. We had a good game and the weather was gorgeous! Yankees won, of course and we ran home to change before the party.
Since we were also sharing our party with Michelle we were headed to my Brothers house...picked up Pizza and El Pollo Loco on the way there and had a fabulous party with the family.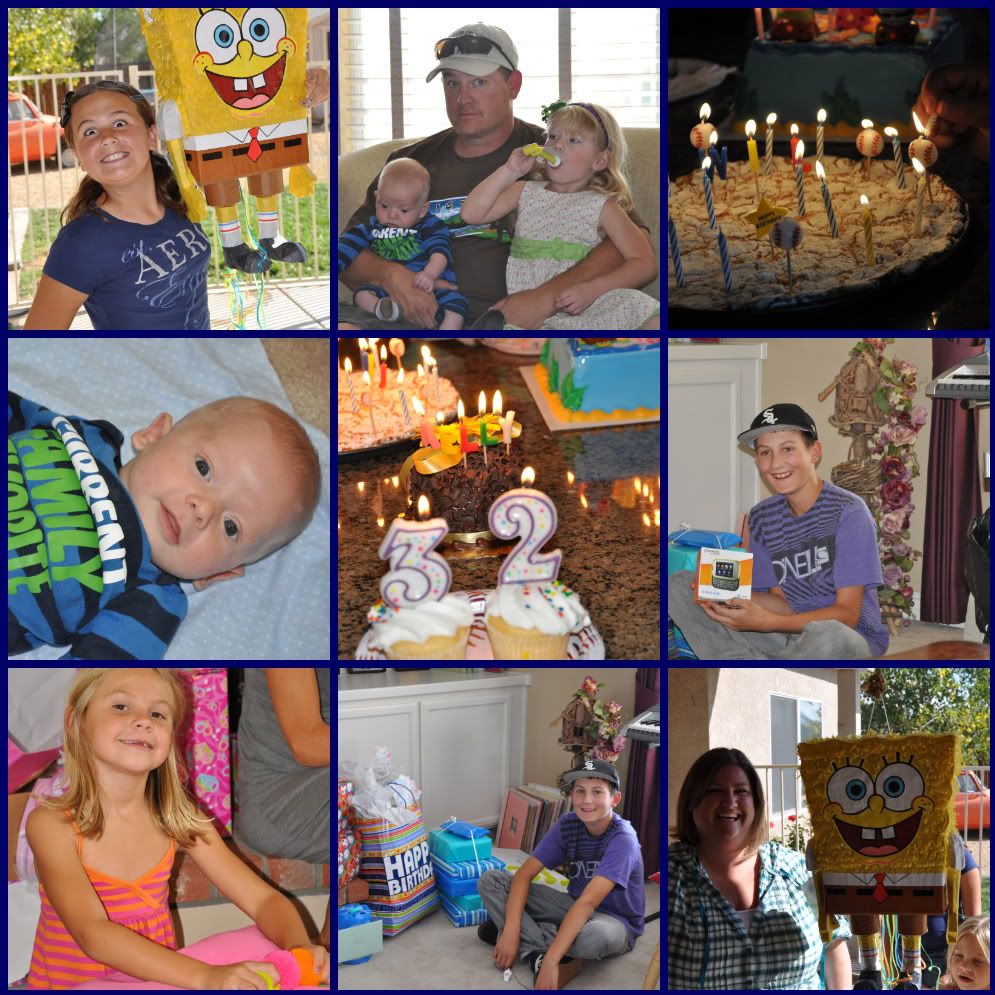 Wil got a ton of clothes, hats, a remote control car, giftcards and a new phone. We got him a green Pantech Pursuit. He's beyond thrilled with it!
I got some giftcards to Barnes and Noble, the iPhone 4, clothes, candles and an awesome new cookie sheet and brownie pan.
The next day for my Birthday was spent relaxing, watching TV a little scrapping..mostly doing a whole lot of nothing!
Now for the recipe that's quickly becoming a family favorite.
1 box Lemon Cake Mix (With pudding if it's available)
1 8 oz tub of Cool Whip
1 Egg
Mix together in a large bowl and refrigerate for 30 minutes or longer. (I've left it overnight and it's fine) Fill a bowl with powdered sugar and powder your hands with the Sugar. Form small balls and roll them in the powdered sugar, coating well. Place them on a greased cookie sheet and bake 8-10 minutes in a 350 degree oven. Cookies are done when the edges are slightly browned. Let cool for 1 minute before removing them from the pan and then continue cooling on a wire rack.
For the cookie cake I placed the balls approx. 1/2 inch apart on a greased pizza pan and baked for 25 ish minutes. The recipe made one "pizza" and a dozen cookies.
Enjoy!